Do you want to invest in the stock market and have exposure to the global markets? You can definitely do it.  I am going to share to you how to invest in the stock market using Etoro brokerage account.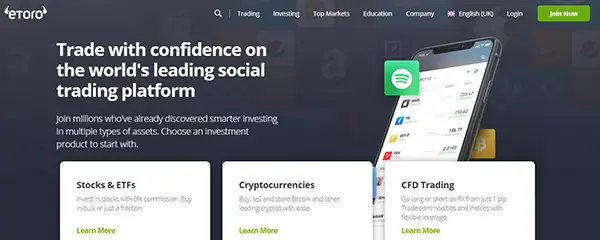 What is Etoro
Etoro is the world's leading social trading platform where you can invest in multiple assets such as stocks, ETFs, CFDs, Cryptocurrencies, commodities and index funds.
One of the best features of etoro is its copy trading function which allows you to copy  other traders and those that are part of their Popular Investor Program.
It allows you to automatically copy their portfolio performance, perfect for those investors who do not want to spend time researching on what stocks and assets to buy and/or sell.
Furthermore, you can check their portfolio and check their performance and stats.  You can also message and interact with them directly on the platform.
Is Etoro Legit
The usual question you have when you are using a new platform or application is if it is not a scam.  After all, it is hard earned money that you put into your account.  Asking if etoro is safe is a legitimate concern.
The good news is Etoro is not a scam and totally legit.  Etoro is regulated and operates under FCA, CySEC and ASIC.  Therefore, your money on etoro is safe.
However, you can lose money on etoro and in fact 67% of retail investors on the platform lose money when trading CFDs. Investing in the stock market always involves risk.
Be a responsible trader.  Do your research, stay informed on the asset that you invest and always diversify to mitigate risk.
How to Invest in the Stock Market Via Etoro
1.Signup and Create your Account
Fill-out the sign-up form with your personal information. Head over to etoro.com and click sign-up.  Fill-out your details on the fields provided just like the form below.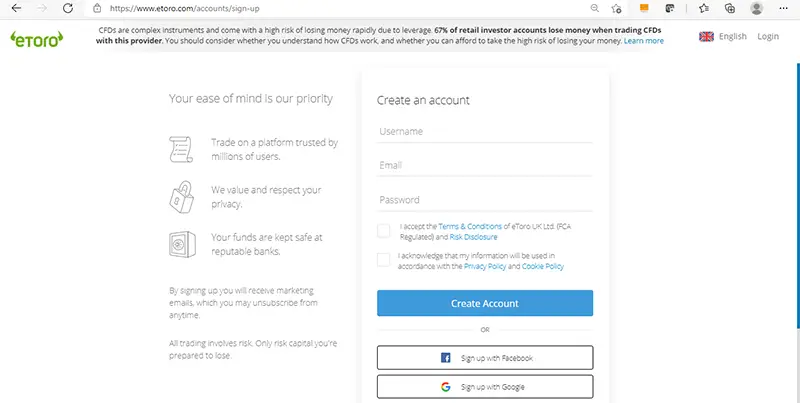 2.Verify Your Account
After signing up, you will be asked to submit documents for the etoro team to verify your identity and address.  Just submit the documents asked so that your account will be verified.
3. Fund your account
It is now time to fund your account to be able to start trading.  There are various ways to fund your account – via credit card/debit card, paypal, skrill, bank transfer and neteller.
4. Start Trading
It is now time for you to start buying stocks and assets that you like.  You have several options in the platform as mentioned above depending on your risk level. High reward assets also carry high risks especially cryptocurrencies which are so volatile. Trade at Your own Risk (TAYOR).
Remember that trading always involve risks so make your own due diligence and research  on the assets that you would like to invest in.
Etoro prides itself as the pioneer in social and copy trading which the platform is quite popular of. So you can take advantage of copy trading if you have no time to do your own research.
The concept of copy trading is that you can copy traders on etoro whose portfolio you want to replicate.  All you have to do is go over the account of the person you want to copy.
Evaluate their portfolio.  Check on their statistics, their risk level, their maximum drawdown daily, weekly and yearly. Check on their portfolio and what it is composed of.  If you like to copy the person, click copy, allocate an amount to copy which starts at $200 and set your stop loss.
As you set your copy, you can also choose to tick the check option for copy open trades.  This simply means that you will copy the existing trades of the person that you are copying.  However, you can choose to untick it which means that the amount you allocated for the copy will only be invested  in the future trades of the person you are copying.
5. Withdraw your Funds
The best part of investing is withdrawing your profit funds.  Yay!
How to withdraw funds from etoro? Click the withdraw fund option on the dropdown  menu on your etoro account.
Remember that you can only withdraw funds that are in your available balance. The minimum withdrawal amount is $30.  It usually goes to the account that you used when you deposit funds to etoro.
Just fill-out the withdrawal form and wait for your funds to enter to your account.
Overall, etoro is a good platform to invest in the stock market.  It has a clean and easy to use interface which is just easy to navigate.
There you have it folks.  Happy investing!