Do you want to learn how to start a blog and make money from it? You are at the right page as you will know how to set-up a blog even if you have zero knowledge about coding.
Read on and learn about blogging and how to set-up one, and turn your blog into a profitable hobby, side hustle or business.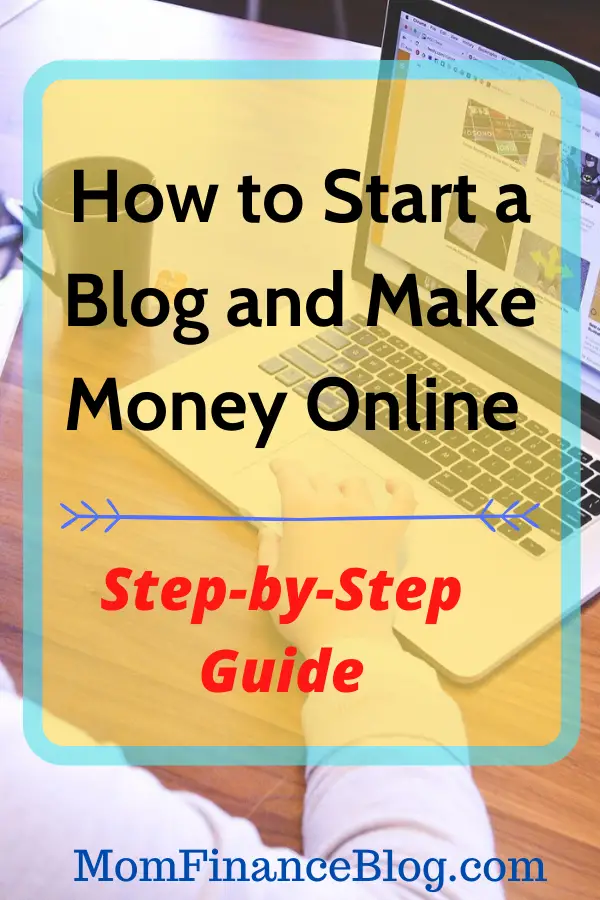 What is a blog?
Blog is short for "web log" which refers to a type of web site that offers informational content published in diary-type, chronological order in which the list of entries are arranged in reverse.
Simply put, a blog is like your diary where you published entries or articles where people can access via the world wide web.
Why make a blog, you asked.
A blog is your personal space where you can do a  lot of things.  You can share your personal experiences.  Your story.  The lifestyle that you have. Your way of life.  And by sharing, you make other people learn from you in the process.
You can also showcase your talent in your blog such as your drawings, music compositions, fictional stories and novels.  The list is endless really.
How to Start a Blog and Make Money Online?
Starting a blog is super easy and it can just be set up in a few minutes.  Thanks to the seamless process that hosting companies like Siteground are now offering. Starting a blog is just easy peasy with just a few clicks.
What you need to Do to start a blog
1. Choose a Niche.
This is probably the hardest part when starting a blog.  A niche is the topic in which your blog talks about.  Think of your passion, your experiences, your field of expertise.  You can start from there.
A niche is the central theme of your blog.  It is the central focus and direction of your blog.  Your articles need to revolve around this central topic.  That is why you really have to think on what topic to choose at the very outset of starting your blog so that you can sustain the articles you publish on a regular basis.
Think of a topic that you can pump out article after article ….for a long time.  Think of a topic that you never tire talking about.
Why choose a niche? Why not just blog about anything and everything?
Remember that your ultimate purpose of starting a blog is to eventually monetize it and make money online.  It is easier to get a following when you focus on a specific niche than having everything all at once in your blog.
Although there are blogs that cover a number of topics but the best option is to just focus and serve a particular audience.
2. Decide on your Domain Name.
The domain name is the address where people can access  your blog via the Internet.  It is your website name, your brand name.
Some things to remember when choosing a domain name:
Chooose a .com extension.  Why? Most people associate this extension with the web address.  It is the most common and popular extension. Example: www.yourdomainname.com
Make it easy to remember.  Since this is your name and your brand, make it easy to remember to your audience.
Make it short.  The shorter, the better.   Don't make it hard for your audience to remember your name.  If you do, you will risk losing them.
Consider including keyword in your domain. If you have already decided your niche, you can include  your niche keyword in your domain because it will help you rank in the search engines.  For example, if your niche is on food, then you can have the domain: www.food.com.  Of course, this domain name is already taken.  This is just an example.  Be creative in choosing you domain.  You can have two or three words in your domain but do not go beyond 15 characters for that might be too long.
Act quickly and register right away. Domain names are like a piece of real estate in the online world.  They sell out quickly so if you have decided on your domain and it is available, register right away.
3. Select a  hosting Plan.
Hosting is like a space that you rent for storage of the content of your blog.  Hosting is crucial to the success of your blog.
I used to have a different hosting.  I was with them for 7 years. Yes, that long because I am loyal to the brands that I use.
However, their services turned crappy and their support was terrible.  My business website went down for 3 days and it was affecting my site's ranking.  That was when I decided to switch.  This time, I am with Siteground and I am satisfied with their services that is why I am recommending it to you.
Click here to sign-up to Siteground and you will be redirected to this page: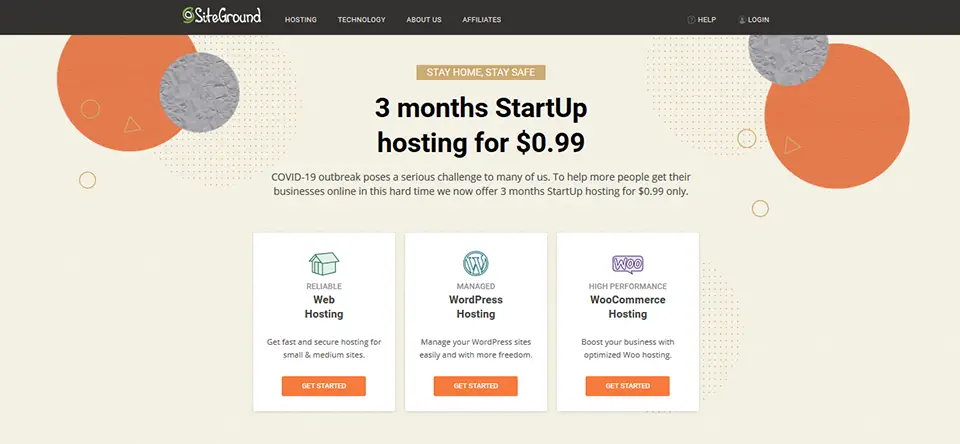 Click on web hosting and you will be redirected to the hosting plans to choose from: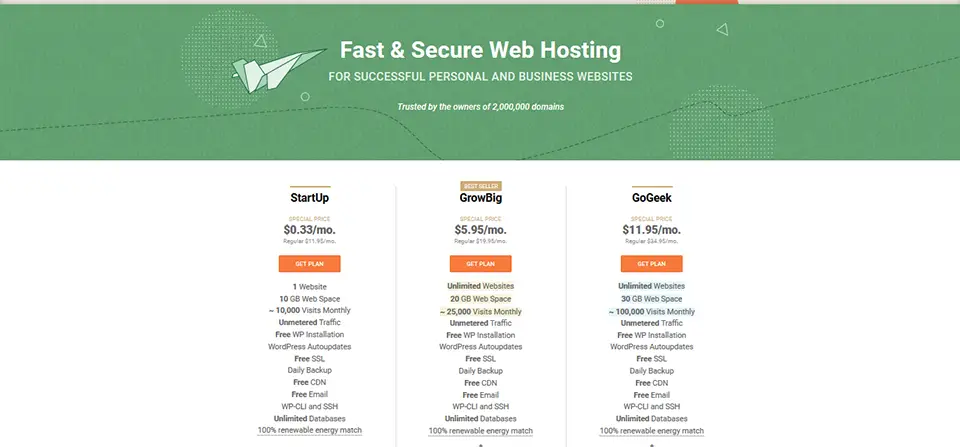 For beginners, you can choose the most affordable plan which is the start-up plan.  You can always upgrade if you need to or if you want to make some more websites and/or blogs in the future.
As of this posting, Siteground is offering a discount because we are in the middle of the Coronavirus pandemic.  Cost for Siteground hosting is 3.95/month and 11.95/month after first year.
After selecting your hosting plan, you will be redirected to the page where you will have to register your domain. If you have already a domain registered to the other domain registrars and you only want the hosting of Siteground, you may click the other option, "I already have a Domain".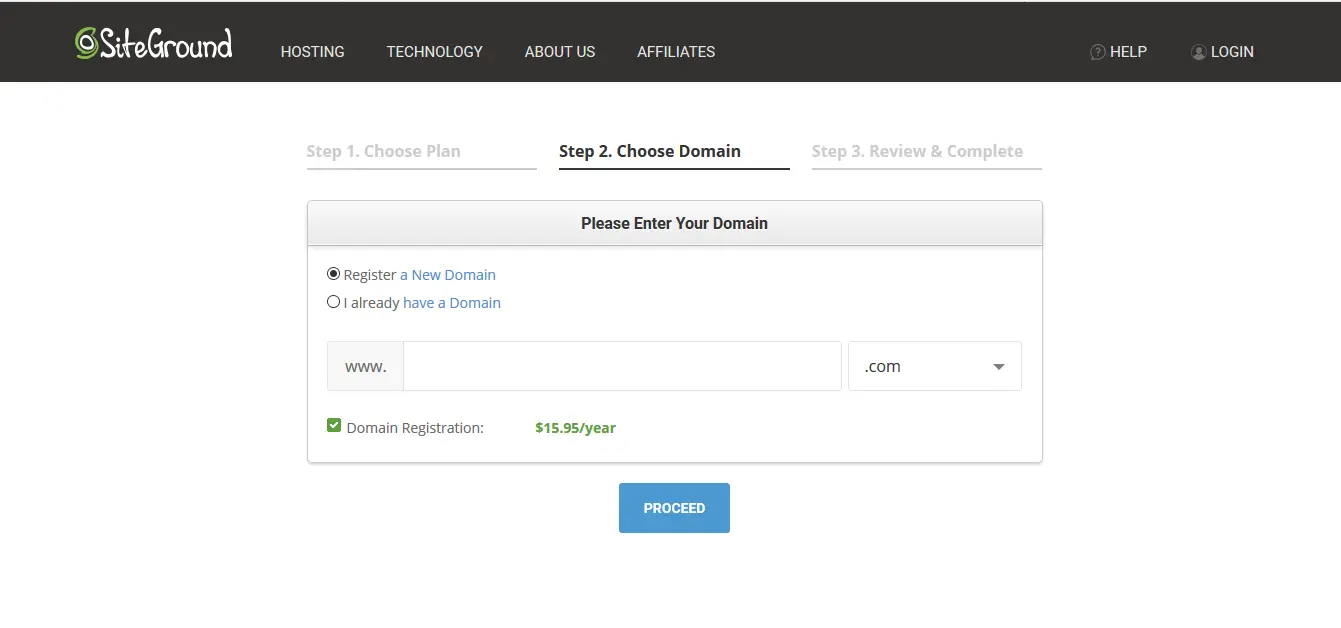 Then proceed to review your purchase and fill-out your personal information and payment details.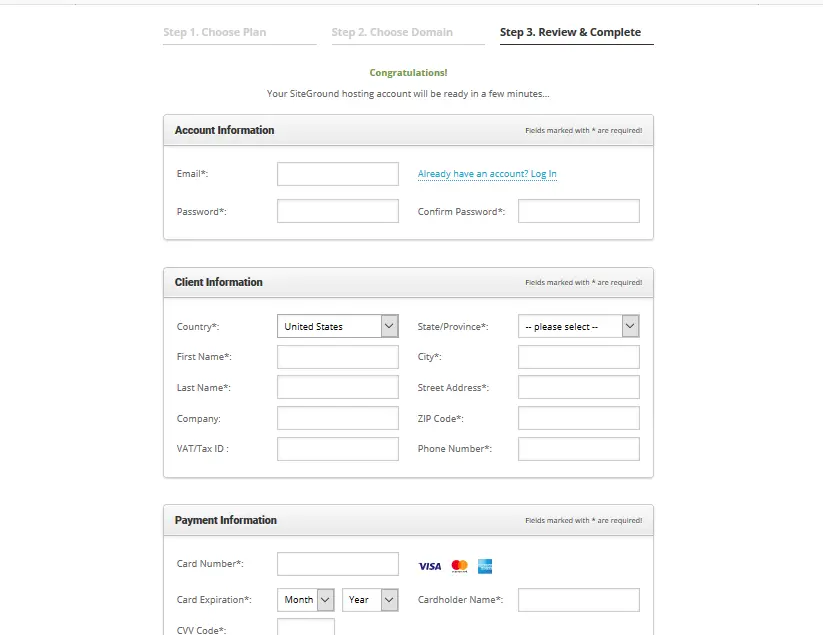 Once you are done filling-out this form, you can now login to your Siteground account.
Advantages of using Siteground:
Free SSL –  Websites or blogs nowadays need SSL or Secure Socket Layer.  This helps improve ranking in the search engines.
Free Back-ups – Back up is important so that whatever will happen to your website, you have available data that you can use later if you need it.
24/7 Chat Support – Support is very important.  If you have any problem with your website, support is available and they get back to you right away if you have concerns.
4. Install WordPress.
WordPress is the Content Management System (CMS) that is used by millions of websites all over the world. This is because you can use plenty of plugins or applications that enhance your website's interface and usability.
When you sign-up at Siteground, they will give you full solution and support to guide you through the process to launch your website.  They also have auto-installers  for WordPress when you access your CPanel in your account.
They also offer free professional website transfer or migration to Siteground  if you have an existing website hosted in another provider.
5. Login to your WordPress Blog.
After installing wordpress, you can now login to your fresh WordPress blog.  Just navigate https://www.YourDomainName.com/wp-admin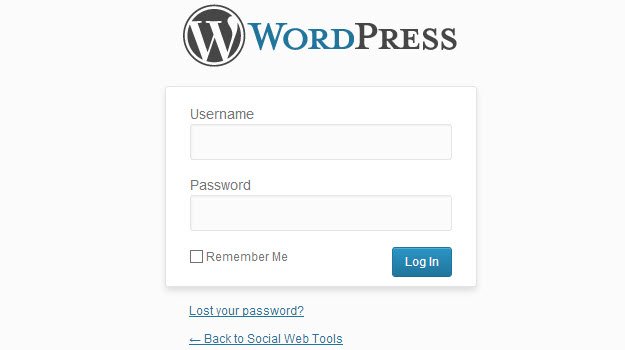 This is where you access the back-end of your blog.  Familiarize yourself with the interface of the back-end of your site.
6. Install a theme.
Theme is like the clothes that your blog wear.  It is the look of your blog. There are plenty of free themes that you can use in the dashboard of WordPress but they have limited functions and designs.
If you don't want to shell out money on a theme, you can use some free ones like Neve, OceanWP, and Astra.
Personally, I subscribed to Elegant Premium Themes because I like their lovely themes.  They are easily customizable, responsive and you have plenty of options of icons.  They have the Divi builder which have a drag and drop back-end function so its very easy to design you blog.
MomFinanceBlog.com uses the Extra theme of Elegant Themes and I am using the Divi builder for my homepage.
7.  Install the Necessary Plugins and Write the necessary pages on your blog
Now is the time for you to install the necessary plug-in of your fresh WordPress Blog
What Plug-ins to Install?
SEO Yoast Plug-in.  This plugin helps you on your on-page Search Engine Optimization.  You just follow the instruction on the optimization wizard as to the settings of the plugin.
Bulletproof Security.  This is to secure your website from hacking or phishing.
There are plenty of plugins out there depending on your desire and need.  Feel free to explore these via the plugins  area under WordPress.
Next is to Write the Necessary Pages on your site:
Contact Page – a way to communicate to you.  This can be also included in your about me page.
Do not forget to set-up the following:
Social Media accounts and put a link on your site so it will be easy to follow and connect with you.
Clear and well-placed navigation menu
8. Write your posts
This is where the real work is.  You have to post content that are relevant and helpful to your audience.  When you are just starting out, you need to pump out more articles  because you are just developing your blog.
9. Market you blog and Grow Your Traffic.
Let's get straightforward here.  Traffic is necessary for you to really earn decent money from your blog.  So, aside from publishing helpful articles, you also need to market your blog.
One of the ways to help boast your traffic are social media traffic.  But the ones that converts and more sustainable is organic traffic which comes from search engines like google.
10. Monetize your blog and make money online.
Once you have established your blog and have a sizeable traffic, it is now time for you to monetize your blog.
How?
Here are some ways you can monetize your blog:
Advertising.  Once you have a good number of traffic, you can apply to advertising agencies like Google Adsense, Mediavine, and Adthrive.  Google adsense is good when you are starting out. But the best are Mediavine and Adthrive if you qualify for their required traffic.
Affiliate Marketing.  Another way to monetize from your blog is through affiliate marketing.    This is selling products in your website and when somebody purchase them from your link, you will get a commission from it.  Many bloggers make huge income from affiliate marketing.
Sponsored Posts/ Advertorials.  When your blog has good traffic and following, some businesses will get in contact with you for a sponsored post.  This is one way for you to earn from your blog.
Sell Your Own Products. Many successful bloggers get a big chunk of their income from selling their own digital products. This option is very lucrative when you have build up your community and become an authority in your niche.  You can create your own products and sell it on your blog.
Sell you Own Services. Another way to earn from your blog is to make it a springboard for you to land clients from the services that you offer like coaching, writing, photography and a lot of others.
Conclusion
How to start a blog is the easiest part.  However, it is not a get-rich quick scheme where once you set-up your blog, lots of money magically flow to you.
To manage your expectation, it is NOT.
It requires time, hard work, dedication, passion, creativity and employing some strategy to work it out and earn money from your blog.
If you reach until this point, thank you for reading this post.
Hoping for your success in your endeavors.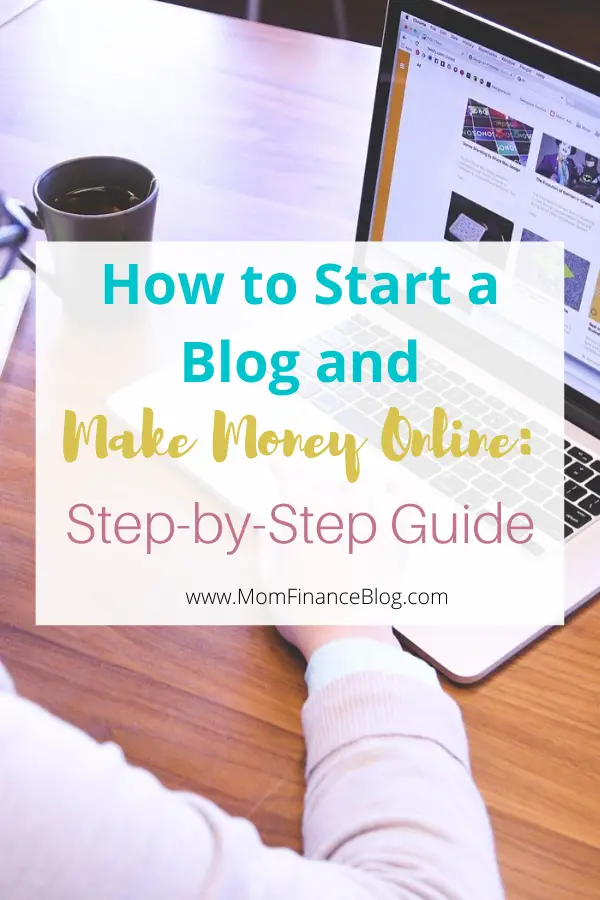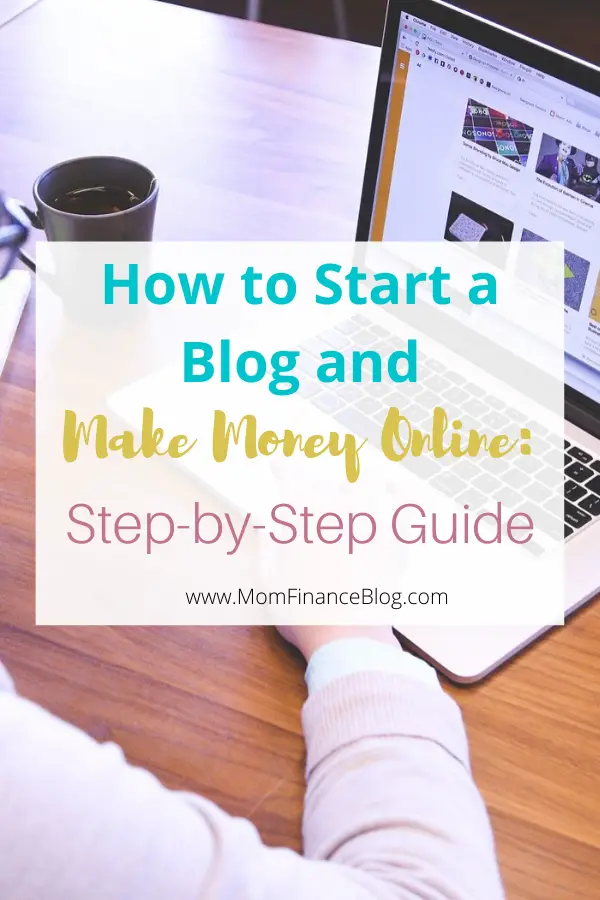 Disclosure: This post contains affiliate links. This means I receive a small commission at no extra cost to you if you make a purchase through one of my links. If you do, thank you for supporting my little blog!