This article gives you an idea on How to Buy a Home for Minimum Wage Earners.  A lot, if not all Filipinos want to have their own home for the family.  It is very understandable given the many benefits of home ownership.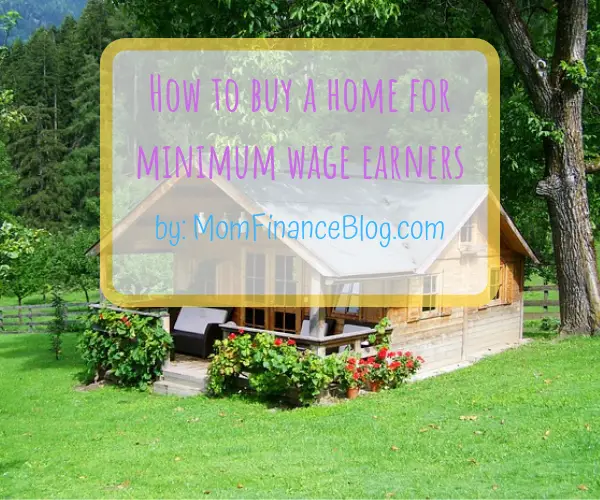 How to Buy a Home for Minimum Wage Earners
Being connected in the real estate industry, many Filipinos are having a hard time getting their own home, especially our brothers who are minimum wage earners.  Financial constraints get in the way of getting this seemingly elusive dream of owning ones home.
Save for the Downpayment
However, there are ways you can do to make home ownership achievable.  If you want to get a house from developers, you must save for the downpayment of your house.  This is usually 20% of the total purchase price of the house.  For example, if you are aiming to buy a low-cost 1 million house and lot, you must save at least 200,000 for the downpayment.
Many of the minimum wage earners have a hard time paying for the downpayent simply because it is very heavy in the pocket.   Downpayment usually is only payable in 2-3 years for developments that are ready to build so you will have a hard time paying it off for the term that it is payable.  So, force yourself to save the downpayment amount so that you won't have to mind this anymore and divert your attention on the remaining 80% of the purchase price which will be shouldered by financing institutions like bank or HDMF or Home Development Mutual Fund also known as Pag-ibig.
Once you will have given the downpayment, all you have to calculate is the monthly amortization from the financing institution where to take your housing loan.  To be safe, your monthly loan amortization must not be more than 30% of your take home pay so that you will be able to sustain the payment of the loan.  This will give you enough wiggle room for your other day-to-day expenses like food, transportation, bills and other needs.
Buy a Cheaper Lot and Build a Home
Another option would just to buy raw lots that are in the vicinity of the city and build your own home.  However, you need to be a good saver with this option because you will have to shell out money for the construction cost.  But if you are able to save and buy for the lot, then save again for the construction, you will not have to mind monthly amortizations anymore, unless you are taking cash loans in buying a lot and in the construction.
There you have it folks, get your own home now.  The sooner, the better :-).