Online banking is such a blessing for us in this digital age.  I so love online banking or doing online transactions for that matter due to its tremendous benefits.  However, its convenience is also coupled with risks and dangers so it is best to practice safe online banking always.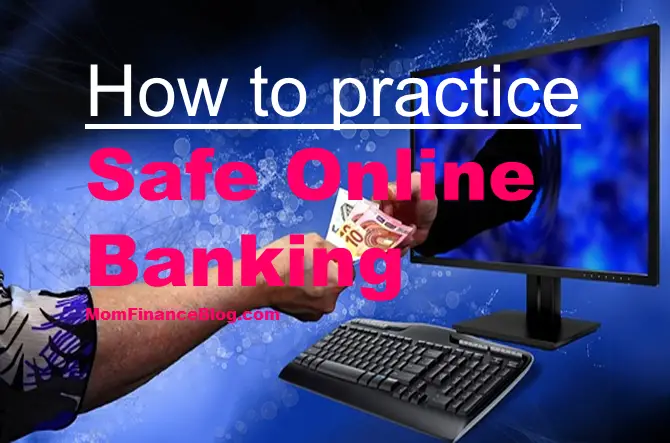 Benefits of Online Banking
Online banking has tons of benefits:
Save Time.   When you do online banking, you save so much time because you don't need to go to the bank just to make simple transactions. You don't have to queue
Save Transportation cost.  Since you do not need to go to the bank physically, you get to save on transportation cost as well.
Convenience.  Online banking is so easy to set up and use.  Just a click on your mouse and your transactions are done in just a minute.
Things you do with Online Banking
There are a lot of things you can do through online banking.  Among others are the following:
1.Transfer funds. With online banking, you can easily transfer funds from one account to another.  You can even register 3rd party bank accounts especially if you constantly transfer funds on that account.  Transferring funds is just easy and hassle free.
2. Monitor your transactions and account balance.  You can easily monitor the transactions of your account via online and see the credit and debit memos.
3. Pay bills – this is one of the most useful transactions you can do online.  Personally, I pay most of my bills trough online banking.  As long as my billing is covered by my online banking facility online, then I use it.  You can easily set up your biller and pay on time to avoid incurring surcharges for late bill payments.
4.  Invest online – you can do investing trough your online bank account.  All you have to do is link your broker's account to your banking account and do funding online.
5. Link credit card and monitor payment deadlines.   You can conveniently link your credit card in your online banking and pay on time.  This is an easy way of monitoring how much have you spent with your credit card and do the necessary payments when it is due.
How to Practice Safe Online Banking
Check on the website if you are accessing the legit one.  Online banking websites use  encrypted data.  Check if the address or URL of the site starts with https or there is a padlock symbol in your web address.
Change your password from time to time.  This might be a hassle but it is necessary to change your password every now and then.  Passwords are your best defense against fraudsters looking for ways to  get access on your account.  It is advisable that passwords must be a combination of capital and small letters mixed with numbers and other allowable special characters.
Check the source of the Emails Pertaining to your online account. Many of the online phishing and fraudulent activities are done via email.  I myself received tons of these but I know they are fraudulent ones so I just ignore them.  They would ask you to update your login information like username and password but they will redirect you to a link that are just a bait.  Your bank will never ask you personal and sensitive information via email.  If you need to update your information, you better go directly to the legit web portal of your bank.
Do not Exposed your Personal Information in your Social Media Accounts. It's a fact that we all use social media nowadays. Limit the information that you divulge in your social media accounts.  Be careful with the data that you exposed online.  Your personal login information must not be searchable and research-able online.
Use the 2-factor authentication.  Banks nowadays use two factor identification to prevent identity theft.  They usually send you password or code via text message or email to be able to log-in or do some transactions online.  If hackers were able to effectively compromise your password, at least this two factor authentication will save you.
Do not Use Public WiFi or Unsecured Network.  It is advisable to access your online banking only in the secure network of your home or office.  It is easier for hackers to steal information from freeloading users in these public networks that are often  unencrypted.
Log out Always.  You must log out always when you are done with your online banking.   It is so much better to be proactive with security when it come to our online banking than sorry later.